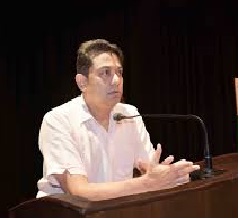 Port of Visakhapatnam is one of the 13 major ports of India. It is located on the east coast, midway between Kolkata and Chennai. During the FY 2009-10 the Port handled a record quantity of 65.50 million tonnes standing 2nd among major ports and first among the east coast ports. The Port is catering to the key industries like the petroleum, steel, power and fertilizers besides other manufacturing industries and playing catalyst role for the agricultural and industrial development of its hinterland spreading from the south to the north.
The outer harbour of the Port can accommodate vessels upto 2,00,000 DWT and draft upto 18.1 meters. The inner harbour berths are PANAMAX compatible and can handle vessels upto 14.5 meters draft. The Port is equipped with an array of cargo transfer systems. The mechanical ore handling plant consists of fully mechanized receiving and shipping systems designed to loads iron ore directly into the vessels through conveyors. The Port is operating its own Railway network of about 200 Kms., which is linked to the Trunk Railways. The Port Railways handled a record quantity of 37.56 million tonnes during the FY 2009-10. The Port is well connected to the NH-5 by a 4 lane connectivity road. The Port has Electric Wharf Cranes of capacities ranging from 10 to 20 T and 2 nos., Harbour Mobile Cranes of 140 tonne capacity. Mechanical loading facilities exist for handling Alumina and fertilisers. The Off Shore Tanker Terminal in the Outer harbour discharges crude oil directly to the tanks of the Refinery. The Container terminal operated by Visakha Container Terminal Private Ltd., is the deepest container terminal among major ports and equipped with modern container handling equipments. The BOT operator, Vizag Sea Port Pvt., Ltd., is operating two berths (EQ-8&9) in the inner harbour. These berths are equipped with 3 nos., Harbour Mobile Cranes which can handle cargo at 18,000 tonnes per day per crane. The efficient workforce of the Port works 24 × 7.
The Port is ISO-9001, 14001 and OHSAS 18001 compliant. The Port facility is ISPS compliant and is currently operating at Security Level-1.
Poised to handle 85 million tonnes by 2020, the Port has ambitious plans for modernization with the vision to become the most preferred Port in South Asian Region. Considerable investments through PPP mode are on the anvil envisaging deepening of channels and berths, construction of new berths, installation of state of art mechanized handling facilities and other logistics.
The strong relation with the stakeholders is making the synergies happen at the port. The Port continually strives in offering prompt and efficient services at optimum cost to the satisfaction of its customers.
I welcome you once again to the Port of Visakhapatnam and hope that you enjoy surfing through our website.
Shri Rinkesh Roy, IRTS
Chairman